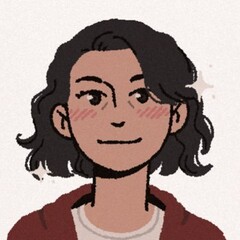 Adriana Zamora
Lead Modeler/Texture Artist at ICON Creative Studio
Vancouver, Canada
Summary
I'm a 3D Character Artist with a passion for video games.
I've been in the industry for 6+ years working on Video games and TV productions creating stylized characters.
I have work in proyects for:
Disney Junior, Netflix, Electronic Arts, Google, The Molasses Flood, Knott's Berry Farm, VR Studios and Mattel.
Always on the lookout for freelance, contracts and full time job opportunities.
Skills
Character Modeling
Texturing
Digital Sculpting
Low-poly Modeling
3D Modeling
UV Mapping
Hand-painted textures
Retopology
PBR Texturing
Texture Baking
Optimization
Anatomy
Software proficiency
Productions
TV Production

Alice's Wonderland Bakery

Year

2022

Role

Senior Modeler/Texture Artist

Company

Disney Junior

TV Production

Super Monsters: Once Upon a Rhyme

Year

2021

Role

Senior Modeler/Texture Artist

Company

ICON Creative Studio

TV Production

Super Monsters: Santa's Super Monster Helpers

Year

2020

Role

Senior Modeler/Texture Artist

Company

ICON Creative Studio

TV Production

Super Monsters: Dia de los Monsters

Year

2020

Role

Senior Modeler/Texture Artist

Company

ICON Creative Studio

Video Game

Drake Hollow

Year

2020

Role

3D Artist

Company

The Molasses Flood

TV Production

Super Monsters: The New Class

Year

2020

Role

Senior Modeler/Texture Artist

Company

ICON Creative Studio

Movie

Dia de Muertos

Year

2019

Role

Look Development

Company

Metacube
Experience
Lead Modeler/Texture Artist at ICON Creative Studio

Vancouver, Canada

Senior Modeler/Texture Artist at ICON Creative Studio

Vancouver, Canada

Modeling and texturing Character Assets

Character Artist at Electronic Arts

Vancouver, Canada

September 2018 - June 2019

3D Character Artist at Cosmogonia

Guadalajara, Mexico

May 2014 - September 2018

Lead 3D Artist

Modeling and PBR texturing player character, enemy characters and weapons for VR and console games.

Lead a team of 3D artists on the production of 500 low-poly models requested by Google for the platform Poly.

Overseeing junior artist deliveries and writing feedback documents.

Create style and tech guidelines.

Modeling and hand-paint texturing stylized characters for mobile games.

Responsible for taking client art tests and securing 3D outsourcing projects for the studio.

Help the art director define the art style to create appealing characters in 3D.

Clients: Google, VRstudios, Knott's Berry Farm, GNP Seguros.

Projects:

-Drake Hollow (Xbox One)

-Google Poly

-BitUp (PS4)

-Luli y Gabo (iOS)

-VR Showdown in Ghost Town (VR)


3D Character Artist at FishyTale Digital

Seattle

March 2016 - February 2017

-Work remotely as main character artist modeling and texturing stylized characters for a mobile game developed in Unity.

-Sculpting character models for 3d printing.


3D Character Artist at Freelance

Guadalajara, Mexico

-Work remotely with art directors and artists to create models and textures for advertising and VR projects.

-Optimize and retopologize existing character models and textures for in-game cinematic.

-Creating blend shapes for animation.

Clients:

-Mattel

-Dark Unicorn Games

-Volkswagen


3D Artist at Larva Game Studios

Guadalajara, Mexico


-Model and texture characters and environment assets for internal and outsourcing projects.

-Asset integration in Unreal Engine and Unity.

-Assisting in organization and productivity to the Art Director.

-Create custom shaders, physical assets and collision meshes for Unreal Engine.

-Help define the style and character art pipeline for player customization.

-Optimize and retopologize assets

-Working with the Programming and Animation teams for troubleshooting.

Clients:

Minority Media Inc, BongFish, Kixeye, Astrolol

Titles:

-Night Vigilante (iOS)

-Spirtits of Springs (iOS)

-Last Day on Earth (Xbox360 cancelled)

-Backyard Monsters: Unleashed (iOS)

-Red Bull Crashed Ice Kinect (Xbox 360)

-SpeedLane (iOS)

3D Artist at CgBot

Guadalajara, Mexico

July 2010 - February 2011

Modeling and texturing of game assets for Facebook games

Titles:

-Crime City

-WeTopia